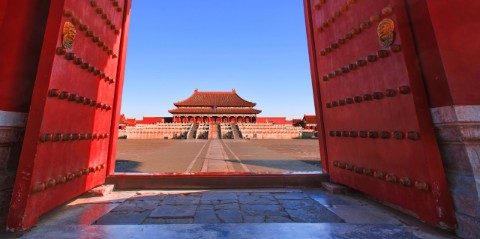 Martin Lau: Revisiting the Case for Investing in Chinese Stocks
In this podcast sponsored by Morningstar, our Managing Partner, Martin Lau, reflects on the state of China's economy and market and what the future might hold.
Transcript available here.
Important Information
This material is solely for the attention of institutional, professional, qualified or sophisticated investors and distributors who qualify as qualified purchasers under the Investment Company Act of 1940 and as accredited investors under Rule 501 of SEC Regulation D under the US Securities Act of 1933 ("1933 Act"). It is not to be distributed to the general public, private customers or retail investors in any jurisdiction whatsoever.
This presentation is issued by First Sentier Investors (US) LLC ("FSI" or "First Sentier Investors"), a member of Mitsubishi UFJ Financial Group, Inc. ("MUFG"), a global financial group. The information included within this presentation is furnished on a confidential basis and should not be copied, reproduced or redistributed without the prior written consent of FSI or any of its affiliates.
This document is not an offer for sale of funds to US persons (as such term is used in Regulation S promulgated under the 1933 Act). Fund-specific information has been provided to illustrate First Sentier Investors' expertise in the strategy. Differences between fund-specific constraints or fees and those of a similarly managed mandate would affect performance results. This material is provided for information purposes only and does not constitute a recommendation, a solicitation, an offer, an advice or an invitation to purchase or sell any fund and should in no case be interpreted as such.
Any investment with First Sentier Investors should form part of a diversified portfolio and be considered a long term investment. Prospective investors should be aware that returns over the short term may not be indicative of potential long term returns. Investors should always seek independent financial advice before making any investment decision. The value of an investment and any income from it may go down as well as up. An investor may not get back the amount invested and past performance information is not a guide to future performance, which is not guaranteed.
Certain statements, estimates, and projections in this document may be forward-looking statements. These forward-looking statements are based upon First Sentier Investors' current assumptions and beliefs, in light of currently available information, but involve known and unknown risks and uncertainties. Actual actions or results may differ materially from those discussed. Actual returns can be affected by many factors, including, but not limited to, inaccurate assumptions, known or unknown risks and uncertainties and other factors that may cause actual results, performance, or achievements to be materially different. Readers are cautioned not to place undue reliance on these forward-looking statements. There is no certainty that current conditions will continue, and First Sentier Investors undertakes no obligation to publicly update any forward-looking statement.
PAST PERFORMANCE IS NOT INDICATIVE OF FUTURE PERFORMANCE.
Reference to the names of each company mentioned in this communication is merely for explaining the investment strategy, and should not be construed as investment advice or investment recommendation of those companies.  Companies mentioned herein may or may not form part of the holdings of FSI.
The comparative benchmarks or indices referred to herein are for illustrative and comparison purposes only, may not be available for direct investment, are unmanaged, assume reinvestment of income, and have limitations when used for comparison or other purposes because they may have volatility, credit, or other material characteristics (such as number and types of securities) that are different from the funds managed by First Sentier Investors.
Apart from First Sentier Investors, neither the MUFG nor any of its subsidiaries are responsible for any statement or information contained in this document. Neither MUFG nor any of its subsidiaries guarantee the performance of any fund or the repayment of capital by any fund. Investments in a fund are not deposits or other liabilities of MUFG or its subsidiaries, and the fund is subject to investment risk, including loss of income and capital invested.
For more information please visit www.firstsentierinvestors.com. Telephone calls with FSI may be recorded.