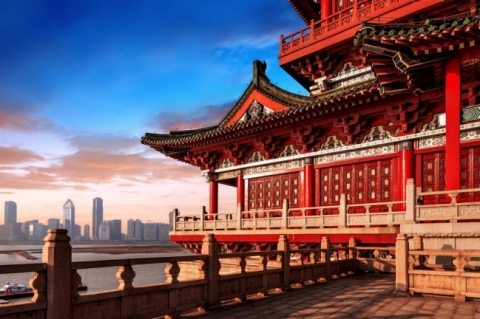 China's decarbonisation plans and the companies poised to benefit
Amid growing reports of extreme weather patterns, we are already seeing the effects of climate change across many parts of the world. Last year was one of the warmest years on record, causing intense heatwaves and wildfires, catastrophic flooding and hurricanes, and rising sea levels as the polar ice caps continued to lose mass. According to a report from the Intergovernmental Panel on Climate Change (IPCC), human activities have already caused average global temperatures to rise by about 1°C compared to pre-industrial times.
Governments worldwide have been stepping up efforts to put climate change action on the global agenda. The Paris Agreement, an international treaty signed by 196 countries in 2015, aims to limit global warming over this century to 2°C – and preferably to below 1.5°C – with each signatory required to report plans to reduce emissions and adapt to the impact of climate change. As part of these common goals, China's 14th Five-Year Plan (2021-2025) placed decarbonisation as one of the government's top priorities.
President Xi Jinping has pledged to peak China's carbon emissions by 2030, then for the country to reach carbon neutrality by 2060. We believe these goals are likely to feature heavily in China's policy planning, with the obvious beneficiaries being companies related to renewable energy sources and energy efficiency.
However, investing directly into solar and wind farms might not be the best way to play on this trend. There are high capital requirements, a reliance on electricity prices, issues with curtailment (which means that some of the power capacity generated is wasted as it cannot be delivered to customers), and high storage prices, which drives up the overall cost of renewable energy.

We believe equipment and solutions providers provide a more attractive investment proposition. For example, Zhejiang Chint is a leader in Low Voltage Equipment (LVE) and has a growing solar business. Not only does the company invest in solar power stations, it also makes solar cells and modules, and provides a one-stop service covering engineering, procurement and construction (EPC) for infrastructure and energy customers wanting to install solar farms.
We also believe that there will need to be significant investment into China's power distribution infrastructure if the renewable energy mix is to increase. Nari Technology provides smart grid solutions, which has seen rising demand as electricity distribution grows more complex and the power grid becomes more decentralised.
In the meantime, we believe natural gas will continue to be an important substitute for coal (which still accounts for more than 60% of China's energy). This should benefit companies like ENN Energy, a leading gas distributor in China. While natural gas will eventually need to be phased out, it should still provide growth for the next 10-15 years. With an eye on the future, the company has positioned itself as an energy solutions provider and is exploring other clean energy opportunities such as hydrogen.
The rise of electric vehicles (EV) is another clear trend, although the renewable energy and EV theme is becoming overcrowded. Valuations are high and there are plenty of new capacities being built, which make us cautious, even though we see the demand trend as very real.
Due to the high valuations in the sector we believe the "picks and shovels" companies along the supply chain provide a better risk/reward. Examples include Hongfa Technology, which produces electrical relays with 20% of revenue from the EV market; Shenzhen Inovance, which makes key automation components and produces controllers for EVs; and Minth Group, which aims to derive 25-30% of its revenue from the production of EV battery cases by 2025, from under 1% last year.
To prevent the impact of global warming from worsening in the future, everyone must play a part in limiting emissions and removing excess greenhouse gases from the atmosphere. We believe this provides opportunities as well as investment risk and we expect companies will need to show that they are taking the issues of pollution and environmental protection seriously. In our portfolios, we have invested in a number of companies with proactive and forward-looking management who are already taking steps towards a cleaner and greener future.
‍
Source: BloombergNEF (BNEF). Company data retrieved from company annual reports or other such investor reports. Financial metrics and valuations are from FactSet and Bloomberg. As at end September 2021 or otherwise noted. Note: Reference to specific securities (if any) is included for the purpose of illustration only and should not be construed as a recommendation to buy or sell the same. All securities mentioned herein may or may not form part of the holdings of FSSA Investment Managers' portfolios at a certain point in time, and the holdings may change over time.
‍
Important Information
The information contained within this document is generic in nature and does not contain or constitute investment or investment product advice. The information has been obtained from sources that First Sentier Investors ("FSI") believes to be reliable and accurate at the time of issue but no representation or warranty, expressed or implied, is made as to the fairness, accuracy, completeness or correctness of the information. Neither FSI, nor any of its associates, nor any director, officer or employee accepts any liability whatsoever for any loss arising directly or indirectly from any use of this document. 
This document has been prepared for general information purpose. It does not purport to be comprehensive or to render special advice. The views expressed herein are the views of the writer at the time of issue and may change over time. This is not an offer document, and does not constitute an investment recommendation. No person should rely on the content and/or act on the basis of any matter contained in this document without obtaining specific professional advice. The information in this document may not be reproduced in whole or in part or circulated without the prior consent of FSI. This document shall only be used and/or received in accordance with the applicable laws in the relevant jurisdiction.
Reference to specific securities (if any) is included for the purpose of illustration only and should not be construed as a recommendation to buy or sell the same. All securities mentioned herein may or may not form part of the holdings of First Sentier Investors' portfolios at a certain point in time, and the holdings may change over time.
In Hong Kong, this document is issued by First Sentier Investors (Hong Kong) Limited and has not been reviewed by the Securities & Futures Commission in Hong Kong. In Singapore, this document is issued by First Sentier Investors (Singapore) whose company registration number is 196900420D. This advertisement or publication has not been reviewed by the Monetary Authority of Singapore.
First Sentier Investors and FSSA Investment Managers are business names of First Sentier Investors (Hong Kong) Limited. First Sentier Investors (registration number 53236800B) and FSSA Investment Managers (registration number 53314080C) are business divisions of First Sentier Investors (Singapore). The FSSA Investment Managers logo is a trademark of the MUFG (as defined below) or an affiliate thereof.
First Sentier Investors (Hong Kong) Limited and First Sentier Investors (Singapore) are part of the investment management business of First Sentier Investors, which is ultimately owned by Mitsubishi UFJ Financial Group, Inc. ("MUFG"), a global financial group. First Sentier Investors includes a number of entities in different jurisdictions.
MUFG and its subsidiaries are not responsible for any statement or information contained in this document. Neither MUFG nor any of its subsidiaries guarantee the performance of any investment or entity referred to in this document or the repayment of capital. Any investments referred to are not deposits or other liabilities of MUFG or its subsidiaries, and are subject to investment risk, including loss of income and capital invested.